The Business Owners Essential Guide To IT And All Things Digital:
22 Critical Facts Every Business Must Know To Maximize Their Company's Efficienty, Security, Employee Productivity and Profits
Buy This Book On May 15th, 2014 And Get These FREE Bonuses Worth $1003:

FREE Personalized IT Optimization Plan Consultation ($497 Value)
This free, one-on-one consultation will reveal:
If your IT systems are truly secured from hackers, viruses and rogue employees.
If your backups are configured properly to ensure that you could be back up and running again fast in a disaster. (Note: most backup solutions are a complete waste of time and money and would NOT allow you to restore everything back to normal as you'd expect.)
How to utilize less expensive and more efficient cloud computing technologies to lower IT costs and make it easier to work remotely.
Plus answers to any questions you have about using smarter IT systems to work faster and more efficient.

FREE Business Disaster Preparedness Checklist ($197 Value)

FREE Report, "20 Revealing Questions You Should Ask Any IT Guy Before Giving Them Access To Your Network."

Free comprehensive website audit from Connetik interactive:
We will carry out over 40 tests to determine the overall content, security, and performance of your Website. ($199 value)
The audit/report will score your website, combining results from tests to produce 5 summary scores for each key area including accessibility, content, marketing, technology and overall. This will give you an at-a-glance indication of how strong your website is in those areas.

Free Employee Training Audit (valued @ $199) – From our friends at Brain Diesel
This audit will reveal costly time wasters keeping you and your employees from being productive. Also learn how Excel automation could save you up to 20 hours/month. (regretfully, this bonus is only available to businesses in the Greater Moncton Area).
After Purchasing The Book, E-mail Your Receipt To
[email protected]
And We'll Send Your All Your FREE Bonuses!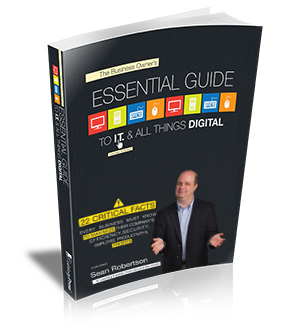 Here's What People Are Saying About This Book:
"The collective issues described are very real concerns; concerns that we have either experienced first-hand, gaps that we have identified and issues that I have witnessed in working with associates. I look forward to reading this book in its entirety. "
Sean Ivens,
President
Advanced Medical Solutions
"Specifically, we learn that companies need to understand the importance of safe-guarding their property and investments from potential harm caused by intentional or unintentional employee misguided use of workplace technology. Companies need to spend time educating their employees on the proper use of workplace information technology and the reasoning for monitoring and this chapter provides helpful tips on building policy content for acceptable use of workplace information technology. "
Tina Smith,
Director- Human Resources
The Town of Riverview