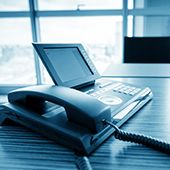 You have just decided to use VoIP as your telephony solution, but now your technician is asking how you want to use it. Do you want traditional desk phones (hardphone) or software-based devices (softphone)? Read on to discover the benefits of each and which ones are most suitable for your needs.
What's a hardphone?
A hardphone is a desk phone that is connected to your business's IP network, just like a normal phone. There's no learning curve associated with VoIP hardphones, and they allow your staff to call anyone worldwide at a more affordable price. The more advanced hardphones have built-in video displays and touch screens to accommodate video calls, eliminating the need of having separate equipment for video conferencing.
What's a softphone?
A softphone is any electronic device that uses a software program that allows users to turn their PCs, laptops, and tablets into high-tech phones to make and receive local and international calls. Softphones let you dial a number on your computer or mobile device and speak through its embedded speakers and microphone, or through a headset with microphone, so you can make and take calls wherever you are.
Which type is ideal for you?
There are some things to consider when you're choosing between hardphones and softphones:
Are your employees always moving around?
Do they require 24/7 connectivity?
Does your company rely on having top-notch customer service?
What's your IT budget?
Your answers to these questions will determine the type of equipment you need. If your employees are mostly in the office, hardphones may be better, especially since you probably already have them and they will be available for use with VoIP.
But if your company requires a mobile workforce, adopting a softphone solution may be better. Softphones feature call routing which allows calls to be diverted to one or several specified internet-enabled devices, ensuring your clients have 24/7 access to your employees. Other features like transcribed voicemail messages also enable you to receive messages promptly, no matter whether you're in a meeting or on the road.
Costs
Hardphones and softphones each have their advantages, so which one you choose may come down to your IT budget.
For SMBs that have a limited IT budget, purchasing new hardphones for all their employees can be expensive, especially if you require hundreds of them. Softphones may be better if you're on a tight budget. You just need to download an application and buy some headsets.
If your budget permits you to spend more on telephony infrastructure, then a VoIP solution would be a great way to improve your users' productivity and save money on your monthly phone bills.
Our experts are available 24/7/365 to advise you on any questions you may have pertaining to VoIP, and especially about whether hardphones or softphones are best for you. If you're interested in upgrading your telephony infrastructure, give us a call today.
Published with permission from TechAdvisory.org.
Source.